Birth Stories
We would love to hear about your birthing experience at Sweet Child O'Mine. Contact us to share your story.
As a first time Mom you don't really know what to expect from labor. You hear stories, you watch videos, but still there is the unknown that lingers in your mind. Everyone has opinions and suggestions, but at the end of it all it's your decision and experience. Which...
I knew I always wanted to have a natural water birth. When I had my first daughter, I was only 17 years old and my mom refused to let me have a...
read more
Kimberly's Story – Baby Levi Cole born January 22, 2019
My journey of pregnancy was not the typical, my mom passed away 3 months before I gave birth. The midwives at Sweet Child were like my second mom, they were supportive and caring all the way through. The night I started labor I immediately called Kitty and she assured me everything was normal. I came in the following morning at 5 am and was admitted in full labor.
Laura came in next and asked how I was doing and let me labor on my own which was exactly what I wanted. I got in the bath at 9 cm and was starting to push soon after. Laura volunteered to break my water if I chose to help progress. She and the nurses kept me calm through the process of having to have oxygen because the baby's heart rate dropped.
After quite a few pushes Laura could tell the baby wasn't coming yet and recommended I get out and push on the bed. 10 pushes later our sweet baby boy, Levi Cole, was finally here. I can't thank the whole Sweet Child team enough for all the support through the entire process from pregnancy to postpartum and breastfeeding tips and help. This was the best decision I have ever made and will definitely be back with my next.
Shelby and Ryan Welcome Ryan Michael II, 8lbs 10oz
"Walking into a hospital, you are setting yourself up for the doctor's birth plan, not your own," says Shelby. And that is why she wanted her second birth experience to be different. When Shelby realized she was pregnant with her second child, she began researching natural childbirth. After reading numerous testimonials on a natural mothering site, she knew she wanted a water birth.
On December 8, 2010 Shelby's baby was getting ready to come into the world. But there was no panic, no rush, no preparation for a hospital stay. "I wasn't even at home for the first part of my labor. When I arrived home, I was already 7 centimeters dilated," she says. During that time, someone took a picture of Shelby laboring on a birthing ball with a big grin, holding up 7 fingers. "I felt so comfortable, being able to do whatever I wanted to do."
As her labor quickly progressed, Shelby's physical and emotional feelings grew intense and everyone knew the baby would be here soon. As Shelby labored in the tub, her husband, her midwife Kim, and her birth assistant consistently encouraged her, especially during the "intense pressure" of her baby quickly moving down and out. "I honestly don't even remember pushing because of how fast he moved down," Shelby says of her surprisingly quick labor.
When Ryan Michael II, 8 pounds and 10 ounces, came out, Shelby experienced amazing relief. "I was glad it was over and he was in my arms."
Looking back on her labor and birth, Shelby says it was a great experience and she is very pleased with her choice to waterbirth. "Unless something is medically wrong, I would never go back to the hospital for another birth again."
Crystal's Story – Baby Alistair born November 15, 2019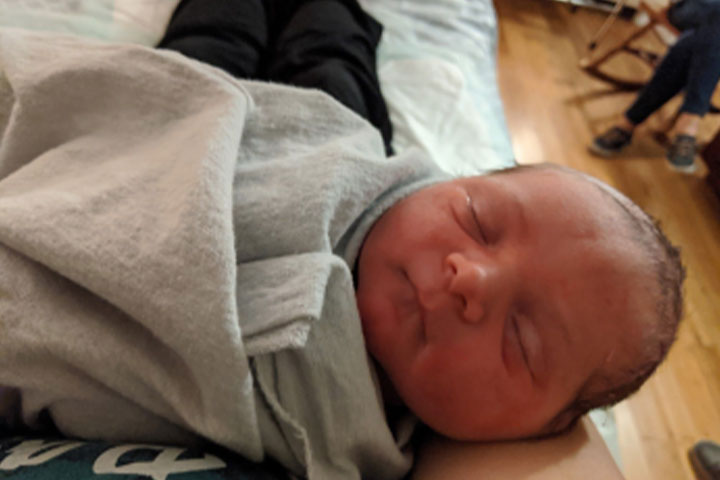 This was my fourth baby, but since this would be my first non-hospital birth, I wasn't sure what to expect. To be honest, I was a little nervous. As it turns out, no one could have anticipated what actually happened — and I am so grateful that I chose Sweet Child O' Mine for this birth experience. I was into my 41st week and wondering when the baby was going to show up, when my water suddenly broke at 2 AM. Contractions started immediately, but were very mild, so I wasn't worried. I called Sweet Child O' Mine and got Kitty, who was on call. She told me to meet her at the birthing center in 1 hour, and to call her before then if anything changed. I had to wait for my doula and my babysitter to arrive anyway, so I just went about getting things ready, pausing for contractions as they came.
By the time my mom arrived to watch my three older kids, the contractions were pretty intense, but it was close to time to head to the birthing center anyway, so my doula, my husband, and I headed over. The contractions intensified on the drive and were coming closer together, but we only live ten minutes from the center, and I was sure I still had plenty of time. I arrived at the center, and Kitty was there, ready for me. She asked me if I thought I could leave a urine sample, and I said yes. I was feeling fine except for during contractions, which were coming every couple of minutes but I wasn't very worried. I went into the bathroom. This is when things went wild. As soon as I sat down, the contractions intensified to the point I couldn't get up. I called my doula in for help, and Kitty came in to check on me as well.
At this point, I began to feel pressure — and I began to feel myself panic. My doula was calming me down, and Kitty was right there. She helped me stand up and asked if I would like to move to the birthing suite. I tried to walk and made it only a couple steps before I said, "I can't." I could feel the baby bearing down, and I couldn't move. I was starting to panic again, but Kitty was so very calm and reassuring. She adapted on the spot, grabbed her equipment, and then my husband, my doula, and Kitty all squeezed into the bathroom with me. I delivered my baby standing up — in the lobby bathroom — and it was the craziest, most unexpected, most EMPOWERING experience of my life. My doula supported my weight as Kitty coached me through delivery and coached my husband through catching the baby, all while she was also helping support me and pausing to unwrap the cord from the baby as he emerged.
The moment I realized, "This is really happening," a sense of calm came over me, and I trusted Kitty completely. She was right there every moment. Alistair was born with no complications, and Kitty calmly suctioned his mouth while my husband held him. As he let out his first cry, this immense sense of empowerment washed over me. I had done it. I had given birth to my baby, without being hooked to IVs and stuck in a hospital bed. I had birthed him STANDING UP. I will remember all my children's births, of course, but this one — I will never forget that unique feeling of awe and how strong I felt in that moment. Kitty helped me to the birthing suite, and the birthing assistant, Maureen, arrived moments later. My entire labor from water breaking and first contraction at home, to the baby being born, was
under two hours! But Kitty adapted to my every need and made it a fabulous experience, despite it shocking all of us. They took wonderful care of both Alistair and me as I recovered. I felt great, the baby and I both were stable and healthy, and a couple hours later, I was cleared to go home.
When I returned home, my kids were still sleeping! Everything happened so quickly, they hadn't even known I'd left. I was able to wake them up with an introduction to their brand-new baby brother. But my reasons for loving Sweet Child o' Mine don't stop there. Two days later, I went in for
my followup with Kitty (on a Sunday!). My blood pressure came back slightly elevated, but I had no other worrying symptoms. Kitty asked me to monitor my blood pressure
from home (I told her my parents had a cuff I could borrow), and she ordered some bloodwork for me. I came in the next day for the bloodwork… my blood pressure was still slightly elevated, but I still had no other concerning symptoms. They expedited my bloodwork, and I went home. That evening, I got a call from Laura, the on-call midwife. My blood work had come back with elevated liver enzymes, and she was concerned I might be experiencing postpartum pre-eclampsia. She suggested I go to the ER immediately. I was skeptical, because I still had no other symptoms — no swelling in hands or face, no headaches.
My blood pressure was high, but even that wasn't high enough that I'd been overly alarmed. But out of an abundance of caution, I followed her advice and checked myself into the Emergency Room. She was right. Within hours my blood pressure spiked and my liver enzymes continued to elevate, but I was already in the ER, and they immediately began treatment. I had no other clear symptoms, even then. Sweet Child O' Mine's careful attention to my health may very well have saved my life. They were even on-call for me while I was in the hospital, reassuring me about having to take my newborn to the ER with me so I could breastfeed. (I was concerned about him being exposed to sickness there, but they calmly reassured me that continuing to breastfeed him would provide him the best protection. They were right — my husband caught something while at the ER with me, but my baby never got sick.) Alistair is four months old now, and thriving. I will forever be grateful to this center — and to the wonderful staff and midwives, who were fabulous not only during my labor and postpartum care, but through my entire pregnancy. I highly recommend Sweet Child O' Mine for any expecting mother who wants a caring, reassuring, natural birth environment.
Rachel & Lars Welcome Freja Olivia, 7lb 9oz
I always knew that I wanted a more natural birth, even before I was pregnant I knew. I don't like hospitals and I'm a fairly private, reserved person so I didn't want 109 people I didn't know coming and going. It makes me uncomfortable doing anything new. So after my first appointment with a regular OB, I started looking around at my options.

I found Sweet Child birth and it felt perfect. After my initial tour and meeting with Kim I knew this was the place! I trust my gut for almost everything. The entire pregnancy was amazing, uncomplicated and long… very very long. All of the midwives were fantastic and really made me feel like it was MY birth and MY choices. The portal was always easy to use and answers came back fast.
I started reading Hypnobirthing books and blogs and decided that was the way I wanted to go, so I practiced my breathing and keeping calm. On February 17th, I left work with what I thought were Braxton Hicks. They continued all evening, but I managed to get a good night's sleep. I had an appointment in the morning with Kitty, so when I woke up and was still having the cramps I wasn't worried. Kitty checked my dilation; I was only 2cm. She let me know it could be today, but could also be another week.

Once we got home, I tried to rest but couldn't get comfortable. A friend came over and we went walking. Two miles later, I knew these were definitely contractions. I emailed the portal and was told to get as much rest as I can and then see if they become more frequent. By 10 pm they had built in intensity and my husband encouraged me to call Kitty and let her know. We got to the center at 10.30pm. She checked me, 9.5cm dilated… we were ready to have a baby! I got back dressed (not sure why I bothered) to walk across the hall while Kitty ran the tub. One last chance to use the bathroom resulted in my waters breaking and the contractions doubling in intensity. I couldn't believe it was finally happening.
I kept breathing and with the help of my husband and Kitty got into the tub, changed into my birthing dress and we were ready to push. It didn't take long for her to arrive and it all felt very calm between pushes. Kitty coached me through the calm breathing while my husband told me how great I was doing and encouraged me the whole way. We were able to feel her coming out; very shocked to feel what turned out to be a full head of hair!! She made it out to her shoulders and then stopped, being underwater we let her wiggle for a few moments to reposition herself and come the rest of the way out. It was amazing. I could feel her shuffling around. Finally she made it out and we had our first real cuddles.
Once I passed the placenta, I had a little more bleeding than we expected; but Kitty and Maureen were so calm in helping me out of the tub and to the bed, not panicking my husband when he saw all the blood…all while another mum had come in for her birth also. We had a beautiful hour of cuddles and checks with our gorgeous little girl. It was so peaceful afterwards. There was no commotion or constant machines, just us and our bonding time. I barely noticed her getting her first exams. I couldn't have asked for a better birth. Walking in at 10.30, she came fast and was out by 11 pm. But it never felt rushed, and I felt ready and in control. A huge thank you to all the team for that!! 100% will be returning for future children. I can't rate you all highly enough for everything through the entire pregnancy!
Caitlyn's Story – Baby Quinten born May 26, 2019
I gave birth at SCOM about 8 months ago to my beautiful son Quinten. I have absolutely nothing to gain or lose by writing this so this is truly my genuine feelings based on my experience. Let me first start by saying from the moment I walked in to my very first tour at SCOM I instantly knew I was making the right choice for me and my baby. The environment was so calm and
welcoming and I typically get stressed in doctors offices and this was not like that at all. I felt at home and safe and loved the idea of having my baby in such an environment! That feeling carried over to every single midwife appointment. The front desk was so friendly and understanding and excellent communicators when things needed to be scheduled, faxed,
printed, everything was handled so professionally and made everything that much more stress free. Then to top it off my appointments were so personal and I didn't feel rushed to get the next patient in like I typically did with my old OBGYN. I was able to take my time and have every question fully answered and it honestly just felt like chatting with friends. I was considered high risk due to my blood pressure and my midwives continuously checked in to make sure the baby
and I were safe and receiving the best care possible which I absolutely loved. I've never felt more safe and cared for by a physician in my entire life and this was my third pregnancy!
Then the big day came and it was truly like a dream. I came in on a Sunday morning from my waters breaking, and had some green staining so I was brought in to check and make sure everything was going well. All was good but I wasn't having strong or consistent contractions yet so I was sent on my way to wait it out. A few hours went by and I started to feel like we were getting close to go time and I came back in to get checked out. Khamissa was the midwife on call and I swear to you the Lord placed her on that shift that day
because I COULD NOT have done it without her. I know the other midwives would have done an amazing job as well, but we clicked from the minute I met her and I was so so glad to have her there. She was an absolute ANGEL. She even stayed past her scheduled shift to be there for me which I will forever be grateful to her for that. It truly brings me to tears that she woke up in the middle of the night and put herself at an inconvenience when she absolutely didn't have to, simply to make sure I was cared for and comfortable. I will never ever forget her kindness and how she helped make my son's first day of life as perfect as it was. So I went in and contractions begin to pick up. Khamissa had me walk around, squat, bounce on the ball and labor my own way to get things progressing. It was a blessing to come in on a weekend because the entire office was empty and I had space to do my own thing which was very nice. Eventually they became very strong and Khamissa was able to tell it was time to check. At this point the contractions became extremely intense (I believe this was just before the transition period) and I was officially admitted to stay. I wanted some sort of relief so I opted for a shower. When I knew that wasn't going to do the trick I asked to fill up the tub. Things became very intense at this point. Khamissa never ever left my side. I had my husband and my sister there as support and I was glad to have them there but honestly Khamissa knew what I needed
before I needed it. My sister and husband were really just moral support and I was more relying on Khamissa for emotional support and she instinctively took on the role of a doula for me and I didn't even ask her to. She was so extremely mothering in a way and made me feel so calm in a
time that otherwise is so chaotic. I was in such intense pain and to have her there with me, never leaving my side, was the only thing getting me through it. She truly has a calling for this job. So we begin filling the tub up and I'm able to climb in and feel an overwhelming sense of relief. I
opted for the garden suite and had the huge deep tub and it was honestly like swimming in warm water and I was able to breathe and have a moment of just calm and relaxation. Then about 3 contractions later I felt my body start to push! I thought no way, not already! My contractions began around 6:30 am and it was only about 11 am at this point and I felt like he was coming! Well sure enough I told Khamissa "I think I need to push!" And she reached down, two pushes later she caught my healthy baby and he was in my arms! It was a dream. I couldn't have imagined things going any more perfectly. I brought my healthy beautiful baby boy home that day and he's now a healthy 8 month old! I could never express how thankful I am to Khamissa and the team at SCOM for every step of my pregnancy to the birth of my child. Thank you all so much. I will for sure come back if I ever have
more babies. I will never go anywhere else!!
Addison Elisabeth Born to Mary & Shane December 18, 2018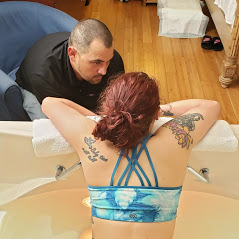 I woke up out of a dead sleep at 5am, sat straight up to the pain from what felt like HORRIBLE period pain. It lasted for about a minute and stopped. I assumed that this was more fake labor, as my unborn child liked to torment me with this for the four weeks prior to this point. I went to the bathroom and timed it, JUST in case, cause well..today IS my due date. I sat there for a couple of minutes terrified that my water was going to break and I really wanted to avoid the mess HAH.
At 5:10am I had another cramp that lasted about a minute and was more intense than the one before it. I'm still not convinced because, every time I thought it was real, it wasn't. At 5:18am I was stopped to have what I KNEW was a contraction, oh my god, a REAL contraction! I labored for about two hours before I felt like it was time for my mom to be my active 'doula'. I tried to take 'micro naps' in between the contractions, but they kept getting closer and quicker than I expected. At about 12:30pm I decided I was going to the birth center. I didn't care that I hadn't been having the contractions this close for a long enough time. It was TIME.
I get to the birth center and I was greeted by midwife Kitty guiding me into the exam room to check my progress. I go to get undressed and I have bloody show! Yee another good sign that this is really happening. While being checked I'm hopeful to hear at least, "oh you're 5 cm", but instead Kitty says "You're 8 cm! Let's go get that tub ready!". I wobble my quickest to the birth suite where I'm guided to the shower to use while I wait on the tub to be filled up and ready. The worst part for me wasn't the pain in my pelvis, it was the pain coming from my back. The only thing that helped was extreme pressure on my lower back. The tub was filled and I hung my body on the edge of the side. Shane (my partner) held my hands and I gripped them during contractions. In between contractions I felt my body float and I braced myself for what was about to happen. I felt her shift down. I felt the urge to push.
My body was telling me it's time. I pushed just to see if anything was even possible to happen, and I felt my water breaking. Kitty tells me she saw my water breaking and that it's time. I changed positions where my feet were held up by the handle bars in the tub. I pushed with 2 contractions and as Kitty thought the 3rd contraction was ending,
I pushed again as hard as I possible could imagine… She was here. I did it. She's here. "Oh my god she's so tiny!" as she was brought to my chest and I let out this sign of relief. Her face was wiped and she cried immediately. I looked at her and couldn't believe she was actually here. I was moved to the bed to recover and to do 3 tiny stitches that were mainly precautionary. The newborn exam was done right in front of me on the bed while I ate my postpartum feast and took some medication for the obvious tenderness.
At 6pm I was told I could go home and that they would call me the next day to check on me. I'm so glad I chose Sweet Child O Mine because instead of remembering an anxiety filled long three day stay at the hospital, I remember my completely private cozy suite with the same two staff members I was used to the most, who I truly felt comfortable with. I remember feeling like a bad*ss because I DID IT, and without medication! I loved my care and if my sanity allowed for another child, I would, without a doubt, chose them again.
Sarah's Story, Baby Elsie born October 17, 2017
My pregnancy was not planned; in fact, I didn't even think I could easily get pregnant at 38 years old. I was frightened when I found out. I have been battling anxiety/PTSD issues since 2012 after something traumatic happened to me.
I discovered Sweet Child O' Mine from the Internet. After reading their reviews and each staff member's profile, I decided to make an appointment for a tour. The first person my fiancé and I met was Rachel, the front desk assistant. She was beyond sweet and comforting. She confirmed I was in fact pregnant and though I was extremely scared at that moment, she made me feel like it was going to be a positive thing in my life as she congratulated us.
Then we met Kim, the owner/founder. First of all, I have to mention—her voice is seriously the most calming voice I've ever heard. It almost felt like a meditation session. She completely calmed me of my fears about my age and my anxiety issues and encouraged me to have the baby naturally despite the fact I had to completely give up the medications I have been taking for years. All while making me feel she had the faith in me to do this.
We took the tour, and this birthing center is absolutely breathtaking! Dim lighting, quiet atmosphere. NOT FREEZING COLD like most doctor's offices. The birthing suites are beautiful and tranquil.
I was sent home with a notebook filled with important information on all-natural births, vitamins, diet, exercise, etc. They leave NOTHING out! At every visit they'd require that I bring the notebook and go over everything as my pregnancy progressed, and ask me to document a food diary to make sure I was eating properly and getting all my nutrients not just from vitamins, but from my food intake. They stressed how important diet is to pregnancy without being nagging. The way they do this really taught me everything I needed to know about being pregnant and being as healthy as possible for my baby. Each visit was pleasant. They took their time to answer my questions, and I never felt rushed or like I was just a number. They made sure that I got a visit with each midwife in the beginning to ensure I got to know each one as it came closer to my birth date so the midwife helping to deliver your baby isn't a complete stranger. They also have an online portal, so any time of the day or night that I had a question, I didn't have to call the office. You just write (as easy as a text basically) and whoever's on call responds, making things so much more convenient. And if it's a loaded question, multiple midwives will chime in with answers and suggestions to help.
As it got closer to the end, Areline taught the birthing classes. (She was one of my favorites). She's also one of the nurses who took my vitals at each visit so I got to know her along my entire journey really well. She's been a doula for like 30 years and really knows what she's talking about. Plus, she's so personable and witty!! The birthing classes are mandatory. Because you're not having your baby at a hospital (so non-personal) and your SO is usually going to be the "baby catcher," you must be knowledgeable. There are four classes, about three hours long, twice a month, so you're not overwhelmed with a TON of information all at once.
You're taught what to do when you're in actual labor—and if you forget, you've got that notebook you've carried around and studied for 9 months! Once your contractions are less than 5 minutes apart, you are supplied an emergency line to contact. And if you have a "quick labor," they're equipped to come deliver your baby in your home if you can't make it to the center!!!
When this happened for me, it was Oct 17, around 2 a.m. Laura picked up the phone. I told her how far apart my contractions were and how long they had been going on. We agreed to meet at the center around 3 a.m. She immediately checked me out to discover I was 4 cm dilated. IT WAS TIME! I had already printed up my birth plan and chosen the suite I wanted, the Garden Suite! My labor was painful, being all-natural, obviously. But Laura was very professional and comforting, all while giving myself and my fiancé and MIL our privacy. She checked on me about once every hour, allowing me to be in labor around my loved ones only for the most part. I personally found comfort staying in the walk-in shower in the birthing suite, squeezing the bar during each contraction while enjoying the hot water on me. Laura told me before I started active labor that the birthing center does not run out of hot water. So I spent literally HOURS in that shower, holding that bar. Then around 8:15 a.m. the contractions got WAY more serious. Laura checked and I was 9 cm dilated. So she filled the birthing tub up. My fiancé and I were both able to be in the tub comfortably as I pushed. Laura was SOOO amazing! There were times where I started to feel scared and she'd just communicate to me with her eyes, reassuring me I can do this! My own music playlist playing from my iPhone through the center's Bluetooth speakers. My favorite essential oil scent (Satsuma) burned. It was sooo calm. Just Laura, her assistant, my fiancé, his mom, and my best friend were in the room. No one else was in the building! Laura didn't even wind up giving me the laughing gas, which was on my birth plan. The labor was so calm she felt I didn't even need it! Once it got to the end, I started to feel anxiety from the pain and the "there's no backing out now" factor. I was also completely out of energy at this point. Laura took a look and told me exactly how close my daughter's head was and how much hair she had! This gave me that last boost of energy I desperately needed—during the next contraction, my fiancé delivered our daughter!
After giving birth, I went in for two postpartum checkups. Kim, Laura, Rachel, and Areline were so ecstatic to hold my daughter! At my last postpartum checkup I jokingly asked Kim if I could write them on the online portal until my daughter turns 18 with questions! And she answered "yes, of course." My baby is three months old, and I've written Sweet Child O' Mine more times in that three months than I did the entire pregnancy! They're firm believers in breastfeeding and understand just how hard it actually is and have continued to help me throughout it, along with helping me through my baby having colic issues. In addition, they have answered questions about co-sleeping and any other random questions I've needed answers to!
These midwives know exactly what they're talking about and believe in old school, homeopathic ways of pregnancy/childbirth. I had the most beautiful birth experience thanks to Sweet Child O' Mine and HIGHLY, HIGHLY recommend them!